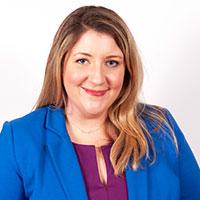 UCLA School Certifying Official (SCO) can be contacted by:
(1) To submit a Certificate of Eligibility, Cal Vet Fee Waiver Award letter or other documents, please click Benefit Certificate Request. NOTE - Documents emailed will NOT be accepted via email.
(2) If you have questions, please email me at vabenefit@saonet.ucla.edu or call for an appointment at 310-206-3141.
As of Summer of 2023, Marcee Davis is the new Assistant Director, Veterans Benefits Administration and Lead SCO at UCLA. A Navy veteran, her work, volunteer efforts, and research focus on military-related students, as well as their families, in their pursuit of academic achievement.
Marcee served active duty in the Navy from 2003 – 2007 as an Aviation Electrician and plane captain during her deployments to the Middle East in support of Operation Iraqi Freedom with aviation squadron VAQ-130 aboard the USS Harry S. Truman, and with aviation squadron VAQ-134 in Afghanistan during Operation Enduring Freedom. She continued her service as a drilling reservist in the Navy from 2007-2014.

Ms. Davis recently served as the VA School Certifying Official and Financial Aid Advisor at UC Santa Barbara from 2020-2023. Her passion for work as a veteran advocated has grown overtime in various roles from a peer-to-peer counselor for the non-profit Service to School, helping prepare many first-generation, transitioning military veterans for their next chapter after military service; working for congress serving as a field representative for a local Southern California congresswoman appointed to the House Committee on Veterans' Affairs, and as one of the founding members and former president of the Santa Barbra County Veterans Collaborative.

Marcee strives to be a strong advocate for veterans and their dependents looking to learn about state and federal eligibility and benefit use while also fostering awareness of the veteran community and facilitating better access and understanding to resources, veteran's benefits, and advocating for positive policy changes on both the state and federal level. She is a graduate of De Anza College, UC Santa Barbara, and USC.